Market & Brand Positioning
In this lesson, you're expected to:
– understand the importance of positioning and a good value proposition
– learn important concepts related to differentiation and competitive advantage
– discover how to write an effective positioning statement and develop your strategy
What is Positioning?
Positioning is the act of designing a company's offering and image to occupy a distinctive place in the minds of the target market. The goal is to establish the brand in the minds of consumers in order to maximize the potential benefit to the firm.
Good brand positioning helps guide marketing strategy by clarifying the brand's essence, what goals it helps the consumer achieve and how it does so in a unique way.
Everyone in the organization should understand the customer-perceived value that underlies the brand positioning and use it as context for making decisions.
No company can be successful if its products and services resemble every other product and offering. As part of the strategic management process, each offering must represent a compelling, distinctive value offering in the mind of the target market.
The result of positioning is the successful creation of a customer-focused value proposition, a cogent reason why the target market should buy the product.
Examples of Value Propositions 
This table shows how four companies – Dornier, Nivea, Volvo and Wolford – have defined their value proposition given their target customers, benefits and prices.
See full-size image: http://bit.ly/2jyGMj8
Determining Current Market Positioning
These are some questions you need to answer to be able to determine where you stand in the market:
– Who are you as a brand and what do you stand for?
– Who are your target customers and what do they want or need?
– How will you reliably meet those needs?
– Who are your competitors and what do you do differently?
Usefulness of Positioning
Positioning is a marketing concept that enables buyers and sellers to gain from being both effective and efficient. An effective buying experience is realized when sellers provide the right market offering at an acceptable price. The seller gains as the right market offering is supplied cost efficiently. It requires that similarities and differences between brands be defined and communicated.
Specifically, deciding on positioning requires determining a frame of reference by identifying the target market and the competition, and identifying the ideal points-of-parity and points-of-difference brand associations.
[Optional] Marketing Plans: What Is Market Positioning?
Competitive Frame of Reference 
A frame of reference provides the context for positioning, and is a way of describing the market or context in which you choose to position your brand.
A starting point in defining a competitive frame of reference for a brand positioning is to determine category membership – the market offerings with which a brand competes and that function as close substitutes.
Establishing Category Membership
Target customers are aware that Chanel is a leading brand of cosmetics, Nestlé is a leading brand of cereal, and so on. Often, however, marketers must inform consumers of a brand's category membership.
There are also situations where consumers know a brand's category membership, but may not be convinced that the brand is a valid member of the category; for example, consumers may be aware that Swatch produces watches, but they may not be certain whether they are in the same class as Seiko and Tissot.
With this approach, however, it is important not to be trapped between categories. Consumers should understand what the brand stands for, and what it does not.
The typical approach to positioning is to inform consumers of a brand's membership before stating its point-of-difference. 
Marketers must decide at which level(s) to anchor the brand's points-of-difference. At the lowest level are the 
brand attributes
, at the next level are the 
brand's benefits
, and at the top are the 
brand's values
.
Thus, marketers of Dove soap can talk about its attribute of one-quarter cleansing cream, or its benefit of softer skin, or its value of being more attractive.
Attributes are typically the least desirable level to position.
– First, the buyer is more interested in benefits.
– Second, competitors can easily copy attributes.
– Third, current attributes may become less desirable over time.
Once marketers have fixed the competitive frame of reference for positioning by defining the customer target market and the nature of the competition, they can define the appropriate points-of-difference and points-of-parity associations.
1) Points of Difference (PODs)
These are attributes or benefits consumers strongly associate with a brand, positively evaluate, and believe they could not find to the same extent with a competitive brand. Associations that make up points-of-difference may be based on virtually any type of attribute or benefit.
Examples are IKEA (affordable design), Michelin (performance) and Bosch (quality). Creating associations that are strong and unique is a real challenge, but essential in terms of competitive brand positioning.
2) Points of Parity (POPs) Points-of-parity, on the other hand, are associations that are not necessarily unique to the brand but may in fact be shared with other brands. These types of associations come in two basic forms: category and competitive. 
a) Category Points-of-Parity 
Category points-of-parity are associations consumers view as essential to a legitimate and credible offering within a certain product or service category. In other words, they represent necessary – but not sufficient – conditions for brand choice.
Category points-of-parity may change over time due to technological advances, legal developments or consumer trends, but they are the essential factors for marketers.
b) Competitive Points-of-Parity  Competitive points-of-parity are associations designed to negate competitors' points-of-difference. If, in the eyes of consumers, a brand can 'break even' in those areas where the competitors are trying to find an advantage and achieve advantages in other areas, the brand should be in a strong – and perhaps unbeatable – competitive position.
[Optional] Points of Parity vs. Points of Differentiation
How to position your product
Writing a Positioning Statement 
To communicate a company or brand positioning, marketing plans often include a positioning statement.
The statement should follow the form:
For (target group and need), our (Brand) is (the concept) that (what the point-of-difference is or does). 
For example: 'For busy professionals who need to stay organized, Palm Pilot is an electronic organizer that allows you to back up files on your PC more easily and reliably than competitive products.' 

Below are some examples of positioning statements used by well-known coffee companies. See full-size image here: 
http://bit.ly/2i8QE7f
How to Position Your Product

Michel et Augustin – Gourmet, all natural & fun
Here's an example of a French company that had to develop a strong brand position in the crowded cookie market where it is difficult to achieve meaningful differentiation through physical attributes alone. 
Below is a quote from 
Augustin Paluel-Marmont
on how they had to position their products:
"What do we want people to think of when they think of Michel et Augustin? What associations should we bring to mind; especially given our brand is our very own names? What should be our points of differentiation with the competition? What should be our points of parity?" 
Check out this SlideShare Presentation for more details:
http://www.slideshare.net/Antoinekooky
Developing a position strategy
A company's positioning strategy depends on the existing strength or weakness of their brand and their competitive intent. If the market is under supplied, then the volume competitors may be content to pursue the same positioning strategy.
In buyers' markets, it makes more sense to seek to positively differentiate their brands in the fastest-growing market segments. Ultimately, positioning is about how they want consumers to perceive their market offerings and what strategies they select to achieve this goal. 

[Optional] Market Positioning Strategy Guide
Perceptual Mapping

Perceptual maps are created along two dimensions – in this case, price and quality. Below is an example of a consumer perceptual map of the automobile market: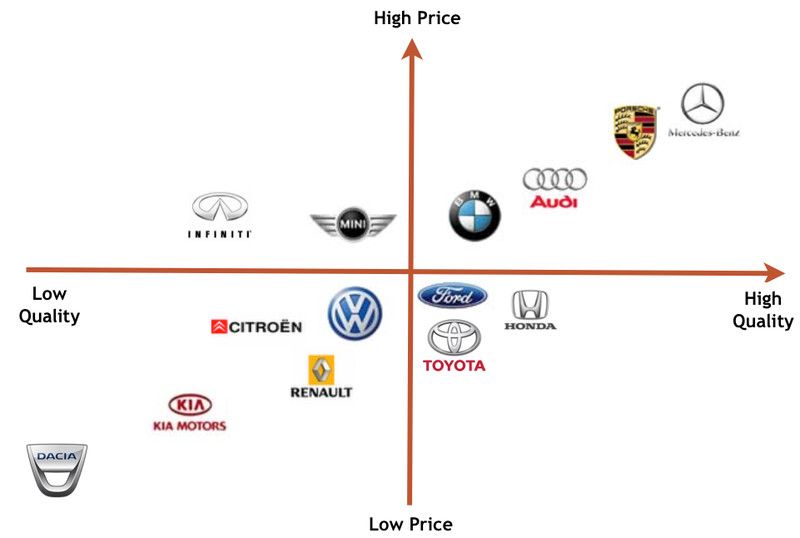 Repositioning
Today's markets are highly competitive and volatile so companies need to be prepared to make both proactive and reactive positioning decisions as market conditions dictate. Repositioning can become necessary for the following reasons:
– A competitor launches a market offering that is as good as or better than the existing company's brand. For example, Honda and Toyota have a well-earned reputation for continually updating their vehicles by such market-perceived value attributes as design, performance and technological innovation.
– There is a marked consumer change in preference, for example for quality beers.
– New market categories appear, for example the market for energy drinks caused Lucozade marketers to reposition the brand from a drink for people recovering from illness to a high-energy sports drink for young people.
Purpose of Positioning
Professional positioning is of benefit to a supplier as it enables a company to invest its resources and skills in the right marketplace. As such it is both an 
effective
 and 
efficient
 strategy.
The right market offering is being placed on the market and professional know-how is applied to achieving this cost effectively. This is also an activity that results in advantages for customers as market offerings are effective in satisfying their requirements in dynamic market conditions when they have a choice of suppliers. Additionally they enjoy an efficient buying experience in the marketplace as they select the branded purchase that they perceive as representing the best value.