Industry Applications of Market Research
In this lesson, you're expected to:
– learn about the key facts and challenges in the Market Research industry
– understand how to uncover actionable insights
– discover emerging methods and future trends in Market Research
The global revenue of the market research industry exceeded   
44 billion U.S. dollars
 in 2015, rising year-on-year since it experienced a slight dip in 2009.
In 2015, North America generated the largest share of market research revenue at 44%, closely followed by Europe with 37%. These regions also had the top ranks in terms of annual growth.
Global leaders of the market research industry include:
– Nielsen Holdings (U.S.)
– Kantar (U.K.)
– Ipsos (France)
– GfK (Germany)
Nielsen was by far the largest market research company worldwide in terms of revenue in 2015. That year, the company's revenue amounted to approximately 6.17 billion USD – almost twice that of its closest competitor, Kantar, with revenues of 3.71 billion.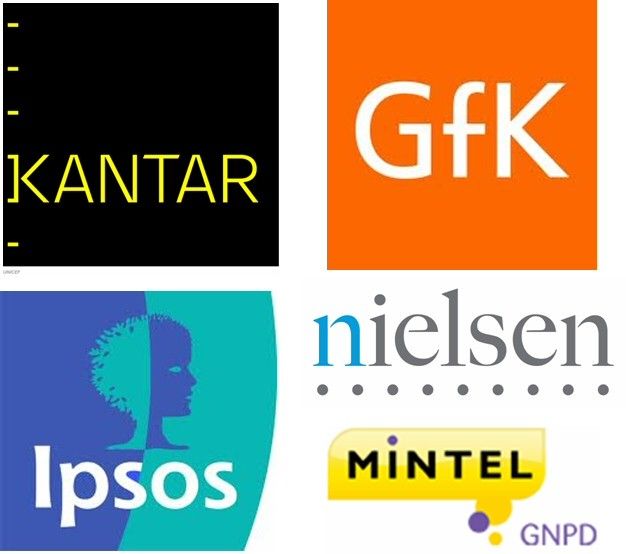 Market Research Industry Trends
Here are 
six trends
 that are prevalent in the market research industry:
1) Shift away from big-budget tracking studies to less costly research efforts.
2) Knowing market opportunity and market share.
3) Continued reliance on panel research and online research.
4) Research suppliers and providers must be more consultative – telling clients strategic insights.
5) Today's "time and budget" do not always allow for optimal quality.
6) New staff expertise needed: social media experts, psychologists, data mining experts, strategic consultants.
[Optional] Key Facts About the Market Research Industry
One of the biggest challenges of many marketers is developing actionable insights about the market and its customers.

Are you satisfied with the way you turn your data and information into understanding and then develop insights on which you can take clear actions? 
[Optional] Actionable Insights: The Missing Link Between Data And Business Value

#1 Be precise in your objectives
Your objective for developing an insight should be presented as a desired change in your target. 
For example, if you are looking to increase your market share, you could be looking to find a way to convince competitive brand purchasers to buy your brand instead.
Identifying the change you are looking to encourage is the first step to uncovering a true actionable insight. Are you identifying the change you desire in your customers?
#2 Involve a wide range of experts Insights are not the sole responsibility of the Market Research & Insight Department. Everyone in the company can bring valuable information and understanding to address the identified opportunity. Therefore, involving people with a wide range of perspectives can make insight development more effective.
Gather a team of experts to provide a 360° perspective of the category or brand, including:
– R&D, who can bring understanding of available internal & external technical skills.
– Operations who can share current defects and development aspects.
– Sales who can add retail perspectives, including distribution and packaging limitations or opportunities.
– Marketing who will provide the communications, image, equity and competitive environment.
– Customer Services who can add current customer sensitivities, problems or suggestions.
– Finance who can highlight any budgetary limitations and ensure financial goals are met.
#3 Review all available information & knowledge
All organizations have far more information than most employees realize, including your market research, insight, strategy and planning teams.
This highlights the need for having a group of people from different departments since they will bring alternative perspectives and information sources to light.
#4 Walk in your customers' shoes 
Social Media has encouraged marketers to stay behind their desks instead of getting out and meeting their customers.
Is this the case in your own organization?
Although you can certainly learn a lot about your customers' opinions and needs online, it is only when you take their place that you get the chance to really see things from their perspective.
Some ways to do this are:
– Go out shopping and purchase an item as one of your target customers. This will help you understand the decision making process of your target customers.
– Compare competitive offers online for a service you propose. Is your website as user-friendly as your competitors'? Have you thought of all the important elements you need to include?
– Call up the customer service departments of your competitors and ask questions about their brand's uses, reliability etc. Do your own staff provide the same information? Are they as knowledgeable, credible, empathetic?
– Role play your target customer in using your product and identify opportunities to improve certain aspects. If your product is used in demanding surroundings, such as outdoors, is it easy to open and consume in such situations?
#5 Fill the gaps
Having gathered as much information about your customer as you can, it is important to turn it all into understanding. This also enables you to identify any information gaps there may be.
Never do any market research until you have first identified all the information that is already available on the topic under review. These gaps can be filled by running a market research project or by acquiring the required information from other sources.
#6 Develop the insight
At this stage, you will certainly have a better understanding of your customer in relation to the identified issue or opportunity than you have ever had before. Insight development can take anything from a few hours to several days.
Don't hurry this process; we are often too keen to get to the action and accept to work with something that is not a true insight.
You will know when you have an insight. When you are able to summarize it in one (or maximum two) sentences phrased as if it were being spoken by your customer, it creates what is known as an "ah-ha" moment. This is when everyone sees it is obvious and wonders why nobody ever thought of it before!
Challenges in the Market Research Industry

1) Methodology

– Too many competing techniques
– Response rates
– Using social media for data collection and analysis
2) Clientele
– Customers expect insights far too quickly
– Customers have dwindling budgets for Market Research
– "Insight schizophrenia"
3) Outcomes
– Lack of actionable insights
– Lack of timeliness
4)
Technologies
– Big data
– Mobile technologies
– Social Media
5) Differentiation

– Demonstrating unique value
– Staying relevant in changing times
Emerging Methods In Market Research According to a recent GRIT (Greenbook Research Industry Trends) Report, Mobile Surveys, Online Communities & Media Analytics are the top three methods currently being used.
Four Categories of Adoption of New Techniques
1) Already Mainstream:
 This group consists of Mobile Surveys and Online Communities, which as the trend data shows has been the picture for a couple of years.
2) Wide Level of Interest: This group has two elements, the first is the analytics/Big Data group and the second is the mobile enabled qual group. Both of these groups score well in terms of 'In Use' and in 'Considering'.
3) Third Tier: This group show interesting levels of adoption and interest, but have not really broken through. This group comprises Eye Tracking, Micro-Surveys, Behavioral Economics, and Research Gamification.
4) Niche: The remaining items are all clearly niche at the moment. Only a few are using and considering them.
Predicted Market Research Trends for 2017
What market research trends should you expect to see in 2017?
Below are some different perspectives from a variety of market research professionals and executives in the field:
1) Acceleration of Technological Changes
2) Increasing Need for Research Amidst Global Uncertainty
3) Growth of Automation and Artificial Intelligence
4) Need for Concise Findings and a Clear Point of View
5) Human Filtering Combined with Automated Market Research
6) Growing Demand for Desk Research
7) Qualitative Research That Can Answer the "Why"
8) Market Research as a Continuous Dialogue
9) Demand for Research That Predicts Business Results
10) Increasing Use of Online Reporting Tools